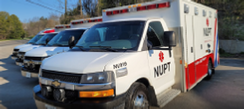 preferred transport providers


In Ontario patient transfer companies provide non emergency transport (stretcher or wheel chair) for patients in stable condition whose medical status does not meet Ontario Ministry of Health criteria for the use of an EMS (911) ambulance.
Patient transfer service provides moving a patient from one facility to another, going home, or being transported from home for specialised treatment either one way or return.
Many regional hospital corporations use patient transfer companies extensively as they provide an essential service because EMS (or 911) is busy with emergencies and is unable to provide adequate coverage.
Who to choose?
Only established businesses that can provide the services that you need are included in our network.
We will collect patient feedback at various times to determine whether the patient transfer company has "treated you right" to help determine eligibility to our network.

NOT All Patient Transfer Companies Are The Same
Ontario Patient Transfer Service
Companies


There are many patient transfer companies in Ontario to choose from.
Some consider this a "cut-throat business", or being from the "wild west", fighting for contracts from cash strapped hospital corporations. If the lowest bidder wins the business, how does this affect the standard of service?
Here is an interesting news article Lowest Bidder Fuels Patient Transfer Business in Ontario!
This self regulated industry is in fact an industry that is NOT regulated by any government department for patient safety. Wow! And most people thought those patient transfer vehicles were ambulances staffed with paramedics. Most likely not.
At patienttransferontario.ca we strive to find the most suitable Ontario patient transfer service company for you or your loved one.
Our recommendations are based on service, price and customer feedback.
Before you choose consider the following:
Patient Safety
Price
History of customer satisfaction
Reliability
Comfort
Professionalism
The two main items are Patient Safety and Price. The following are a few points consider.
More information on Patient Safety
More information on Price
Here is one example of general feedback regarding patient transfer service in Ontario. This company is NOT recommended by patienttransferontario.ca. Note: Company name and other specifics blocked.
City: Welland
Transfer Company Name: XXXXX
Company rating: Poor
Comments: Just before 7:30pm this evening, I was following behind a XXXXX vehicle driving from Welland to Port Colborne on Highway 58 and observed the vehicle swerving on the road several times. At the traffic lights at Steele and Clarence St. in Port Colborne the XXXX vehicle was going straight while I was entering the turn left lane. I had to stop short as the XXXXX vehcile was partially in my lane. I found this driving disturbing and unsafe. The driving conditions were fine, there was nothing with the weather that could have effected their driving. Witnessing this definitely would make me think twice before using XXXXX services. I tried to memorize the plate until when I stopped.... XXX XXX